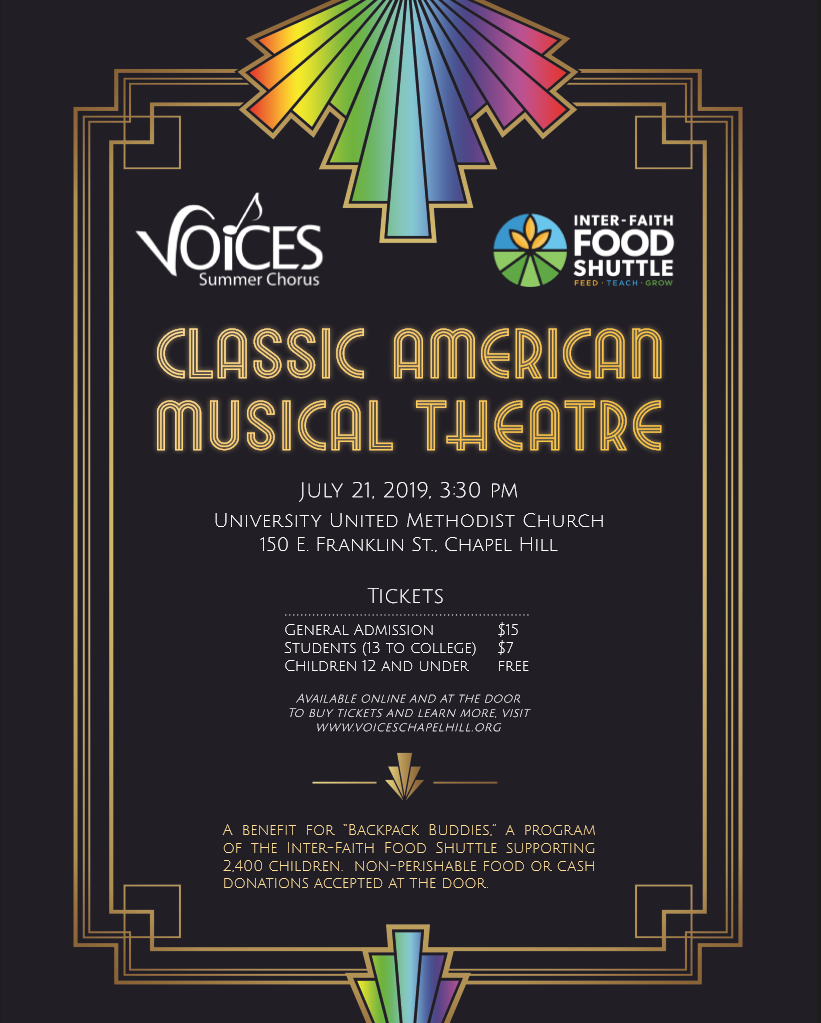 The 2017 concert program, entitled Touch the Sky, includes songs of sunshine, rain, clouds, and angels, including works by Eric Whitacre, Cat Stevens and Jay Althouse.
Voices Summer Chorus began in 2002 for people who did not want a vacation from singing during the summer. Typically the summer performance is theme-based and includes guest performers. In the past, the chorus has been joined by Shakespearean actors, a bluegrass band, a Beatles Band, Flamenco and Fred Astaire Dancers, a Mariachi band, a jazz singer, Native American Dancers, African Drummers, poets, and a harp ensemble.
Past performances include:
2002 – "An American Journey" with Kickin' Grass (Blue grass band)
2003 – "Passport to Song" with Kahlid Saleem and the Rhythms of Life
2004 – "The British Are Coming "with BackBeat Band (Beatles Music)
2005 – "Across the Border: Hispanic and Canadian Music" with Los Galleros Mariachi Band
2006 – "Gotta Dance" with Fred Astaire Dancers and Cai Flameco Dancers
2007 – "A Soulful Sound: Spiritual, Blues, and Gospel" with Jazz Vocalist Susan Reeves
2008 – "La Bonne Cuisine: A musical culinary tour" featuring Guest Soprano Florence Peacock
2009 – "The Wild, Wild West" with Native American Dancers
2011 – "Shakespeare and All That Jazz" with actors from Deep Dish Theater
2012 – "Stairway to Heaven" with the North Carolina Harp Ensemble
2014 – "American Songs, Poems & Spirituals" featuring Voices' "American Dream" High School Poetry Contest Winner
2015 –  "Close Your Eyes and Think of Me" featuring a premiere of a composition by popular Minnesota composer Elizabeth Alexander.