Voices FALL / WINTER SEASON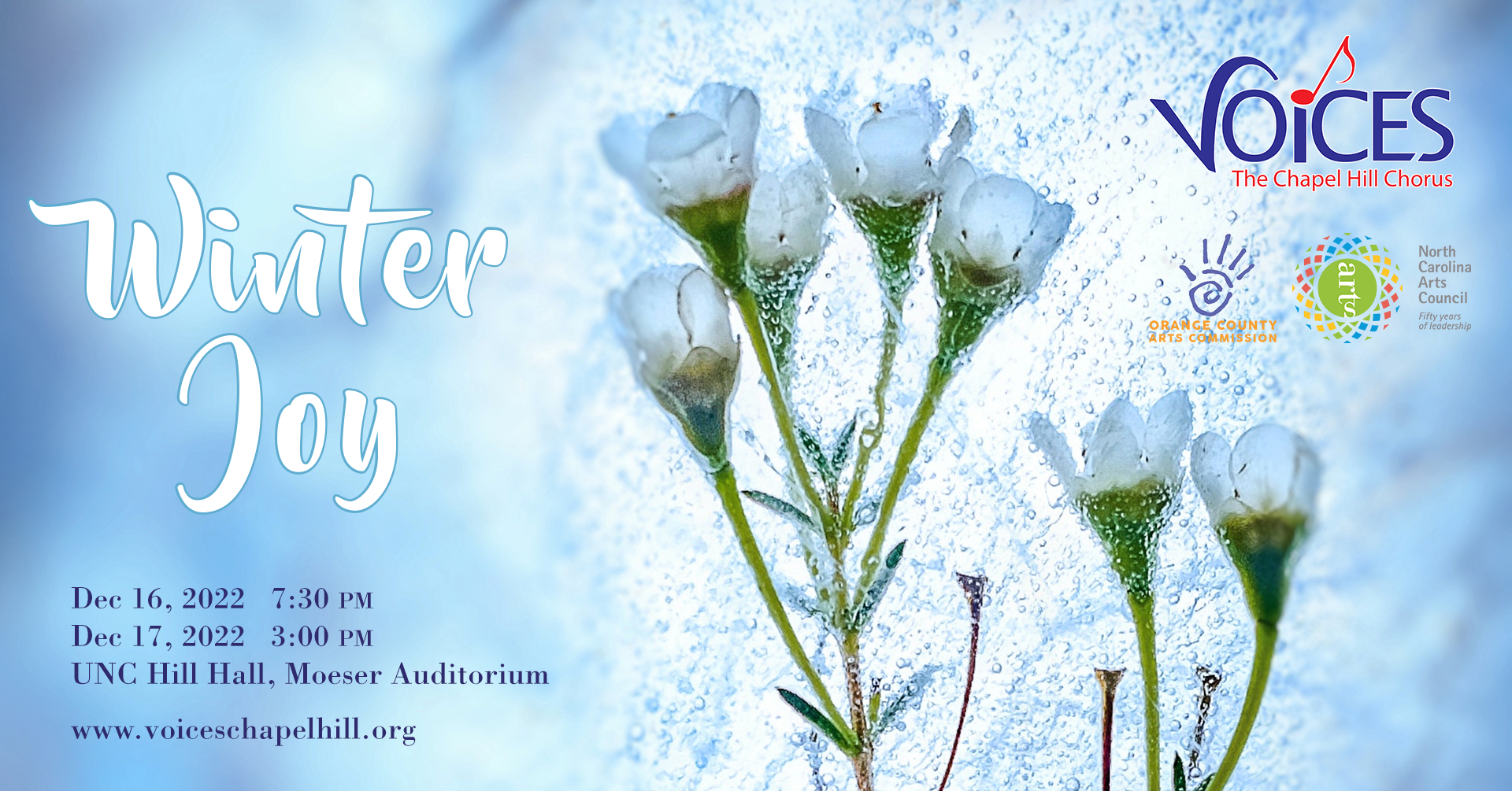 Our season will culminate in 2 performances at UNC's Moeser Auditorium in Hill Hall.

Friday, Dec 16, 2022 @ 7:30PM

Saturday, Dec 17, 2022 @ 3:00PM
Click here to purchase tickets for Friday, December 16th @ 7:30 PM
Click here to purchase tickets for Saturday, December 17th @ 3:00 PM
tickets will also be sold at the door

General Admission: $20
Students: $10
Kids 12 and under: free! 
Voices

' December concert,

Winter Joy,

features our full company performing Kirk Mechem's

Seven Joys of Christmas

– a

setting of lesser-known carols from different countries in order to paint different aspects of joy for the Christmastide;

Winter (from the forgottens)

by Dan Locklair –

a four-movement choral cycle

, based on texts by 19th and early 20th century American poets, filled with vivid imagery expressing the magic and mystery that are a part of winter; and an

invigorating and powerful gospel setting of Mary's prayerful expression of joy

–

Robert Ray's

Gospel Magnificat

, complete with rhythm section.
Our chamber ensemble,

Cantari

, will present a set of a cappella pieces including Salamone Rossi's "Elohim hashivenu," Robert Applebaum's Maoz tsur," a setting of the first principal of Kwanzaa (Unity) by Zanaida Robles; Nathaniel Dett's "Ave Maria," and a Nigerian Christmas song entitled "

Keresimesi q'dun de o" arranged by Wendall Whalum, with several other selections.
Travel with Voices
In the Summer of 2018 the Carolina Internationale Chorale went on tour to Scotland, performing in ornate and historical churches and cathedrals in Stirling, Inverness, and Edinburgh. The singers performed an eclectic selection of music including Handel's coronation anthems, Haydn's "Te Deum", Vaughan William's "Serenade to Music", and a selection of Scottish and American folk songs.
"Singing with others has this amazing effect–no matter how tired I am when we start a rehearsal, I am refreshed and happy when we finish! It's just good for the soul."
"Cantari has been my musical home since moving to the Carolinas. It is rewarding to sing wonderful music with talented singers from around the Triangle. I look forward to every rehearsal! "
"We always enjoy the glorious, classic music with interesting arrangements and orchestration and beautiful harmonization!"
Stay in touch by joining our mailing list below!
(you can unsubscribe at any time)
Special Thanks to our Sponsors